We are a tight-knit team and work hard to support one another so that the patient gets the best possible service
…I like working with the team because they are really fun to make goals, bets and jokes with... we have a lot of fun doing our job and it's rewarding!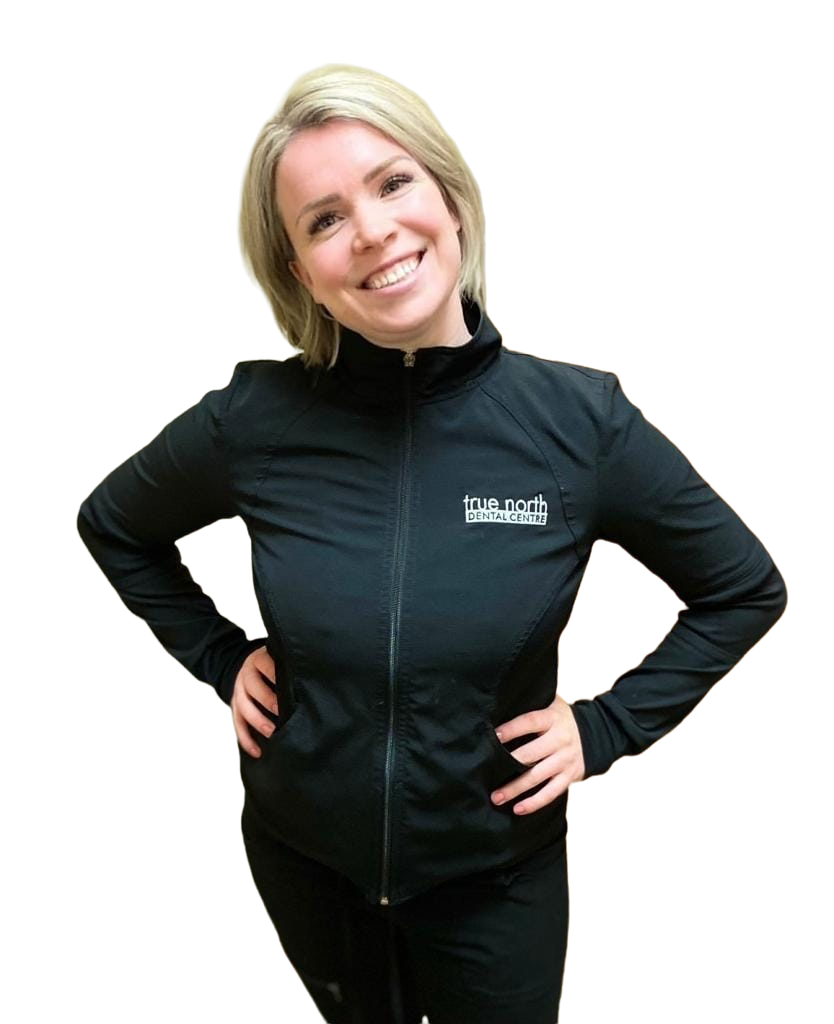 Alex
After a poorly done root canal at another office, I was happy to find a dentist that could fix my ongoing concern with a price that was easy for me to afford on a very simple payment plan
Katie
I love how efficient the team at true north Dental is. I never have to wait and the staff are super friendly.
Roy
This dental office helped me with my teeth after a car accident. They communicated directly with Autopac and everything was very hassle-free.
Check out our contact page for some ways to reach us
During your dental visit you will see some faces behind masks and protective glasses and you may wonder who we actually are….well here you go! Here are the faces behind true north Dental Centre and a short bio for each of us.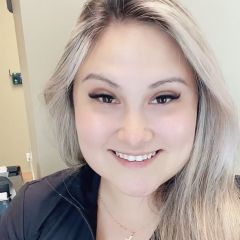 Paige
Assistant & Administrator
Paige graduated in 2018 from Red River College with Dental Assisting level II & Ortho module with 
honors. She is a member of the Manitoba Dental Association.
Paige completed a practicum with true north Dental in 2018 and after that she joined the team as an RDA and Dental Administrator. We didn't want to let her go!
Because Paige never liked visiting the dentist growing up but loves her work now, she knows a thing or two about making you feel more at ease.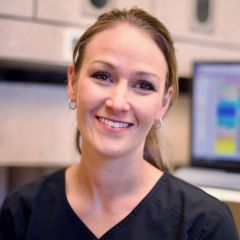 Jen
Hygienist
Jennifer graduated from Dental Assisting in 1999 from Confederation College in Thunder Bay, Ontario. She then chose to leave the rocky Lake Superior shores behind to continue her education and graduated from Dental Hygiene in 2004 from the University of Manitoba.
From there, Jen joined us and never looked back!
When not in the office, Jen enjoys spending time with her family in the great outdoors at the cabin…or "camp" as they say in Thunder Bay.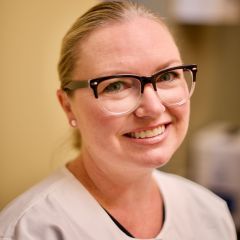 Tamara
Assistant
Tamara graduated from Robertson College as a dental assistant. She has been working in downtown Winnipeg for over eighteen years and joined our clinic in 2013. Next year we have something to celebrate!
Tamara loves watching HGTV so if you need any suggestions for your next renovation or or want to know what colours to use in your home, she may be able to give you some hints.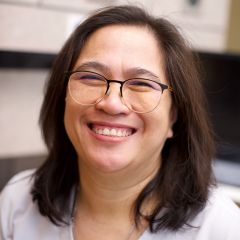 Maria
Assistant
Maria graduated in 2009 as a Dental Assistant II and began her journey with us. Her family took her to Western Canada to live but fast forward to 2017 and she came back to us – you know how the old saying goes: "If you love something set it free. If it comes back it's yours. If not, it was never meant to be"…
Rumour has it that she was a dentist back in the Philippines, with a speciality in pediatrics, but maybe you can find out more when you see her.
She likes taking care of her family, baking sweet treats and… side hustles. Enough stuff to talk about!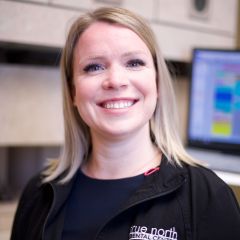 Megan
Manager
Megan graduated with honors as a Dental Assistant II with an Orthodontics module from Red River College in 2009. She returned to RRC to attain her Human Resources Management certificate and graduated in 2019, with honors.
Megan has over 10 years of experience working in the dental field, including some international dental office experience in the Cayman Islands. Megan is part of the Dental Office Managers Association of Canada and CPHR Manitoba. She joined true north Dental in 2016.
In her spare time, Megan likes to explore new places outside with her son and attempt to replicate ridiculous Pinterest recipes.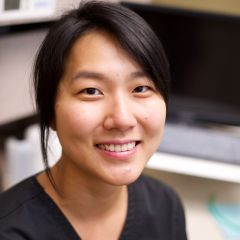 Chae
Hygienist
Chaeyoung moved to Winnipeg from Korea in 2007 and speaks fluent Korean.  She may even be willing to teach you a few words when you come in for a dental cleaning! She went to the School of Dental Hygiene at University of Manitoba and graduated in 2016 and joined true north Dental in 2018.
Chae likes going to the theater to watch movies and she loves to travel. She also enjoys crocheting and knitting in her spare time.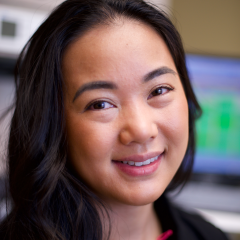 Chelsy
Administrator
Chelsy graduated from CDI College as a Dental Assistant II in 2014 and joined our Administration team in 2018.
She loves to keep herself busy crafting, travelling, and spending time with her loved ones.
Chelsy is the lovely person you may see at the front desk when you walk in. She looks forward to meeting and greeting patients in person and through the phone!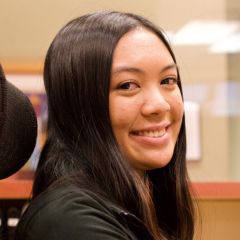 Ashley
Administrator
Ashley graduated with honors as a Dental Office Administrator from Robertson College in 2021 and joined true north Dental in 2022.
She is always open to learning new skills and building relationships with those around her. She has always had an interest in dentistry as a kid and would like to pursue dental assisting or dental hygiene in the future.
Outside of the office, Ashley enjoys working out, baking, travelling, and trying new treat and boba spots around the city. She also works part-time at a local restaurant and loves spending time with her family.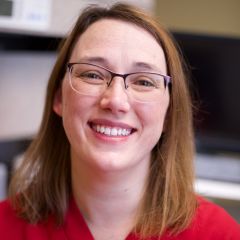 Tanis
Hygienist
Tanis started her dental career as a dental assistant II in 2001, working with Dr. Karpa for 5 years. She decided to continue her education at Dalhousie University, taking the Dental Hygiene course. Once she completed that program, true north Dental missed her so much that we renovated the office and asked her to come back part time in 2008 🙂 This is where she has been since.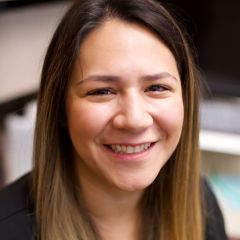 Anahita
Hygienist
Anahita graduated in 2016 at the University of Manitoba and joined us in 2017 as an Hygienist.
On her days off, she likes hanging out with her dogs and husband at their cabin. If she is not found there, she may be on an impulsive vacation. Sounds like fun!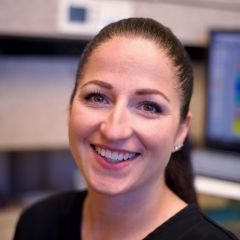 Lindsay
Hygienist
Lindsay graduated from the University of Manitoba School of Dental Hygiene in 2005, and has been working as a dental hygienist at true north Dental since 2006.
In her spare time, Lindsay enjoys running and spending time with her family. She is also a Winnipeg Blue Bombers fan so feel free to wear your blue, gold with white when you are booked to see her at our clinic for a dental cleaning.
We currently don't have any vacancies. Although we are not actively hiring, you are welcome to send in your resume and some information about yourself for us to keep on file for future opportunities. See our contact page for some ways to get in touch.
We offer: